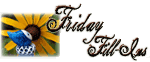 And...here we go!
1. Why are you making
simple things complicated?
2. I want you to take
a vacation with hubby and son this spring break
.
3.
If you want me to give you what you want

,
then it will be on my terms.
4.
I'd like to try driving on a freeway
and see what happens.
5. I could use a
hand to start packing our things up
before move.
6.
We already are approved for a mortgage loan
and then
,

all we need to do is find the house of our dream.
7
. And as for the weekend, tonight I'm looking forward to finish posting memes on my blogs, tomorrow my plans include
go to the park in the morning, then look for a house in the afternoon
and Sunday, I want to
just rest and relax after church.