First, I would like to greet the creator of this meme "Nostalgic" Rose of Nostalgic Marveling a very Happy Birthday. May you have more candles to blow, and happiness always. Thanks for being a good friend.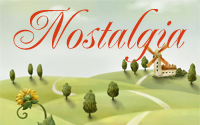 I didn't join the meme last week because I couldn't find and think of something Nostalgic to share. This week, I made sure that I have something on mind that is worth sharing :-), and here it is.


In this pictures was my mother (on the left), my Lola (who passed away a little over a year ago), my son, Jake seating on my Mom's lap and of course, yours truly. Anyway, This was taken summer of 2007 when Jake and I visited my family and relatives for the first time after six years since I left Philippines to marry my ex-bf (now my husband)... and Jake's first. It was very memorable because that was the last time I saw my Lola alive. I miss her so much! I will never forget her for he took care of me when I was still a baby. Why not my mother, you asked? Because my Moms suffered from postpartum depression and couldn't take care of me. My Grandma and Grandpa stepped in to help. My Lola is a hard working person and a strict one, too! But she is the opposite of my Lola and I am spoiled with him. Would you believe if I tell you that he and I have the same birth date!? Yes, and I was so sad when he died, I was 7 year old then. I just hoped Jake met him before he passed away.

I was very closed to my Lola and that is why when she passed away, I didn't think twice, I flew over just to pay my last respect for her. She is greatly missed by her family especially her grandchildren who grew up under her care....and there are many of them including me and my youngest brother. I can still remember when I was still single living with her. Every single suitor I had became very close to her. She would always introduce me to them starting from when I was still a baby to the present and I was very embarrassed...but glad at the same time :-). Unfortunately, she and my husband never met. But am happy that she is finally happy and reunited with Lolo at last!